Content and the New Marketing Equation by Brian Solis
Via Scoop.it – Designing design thinking driven operations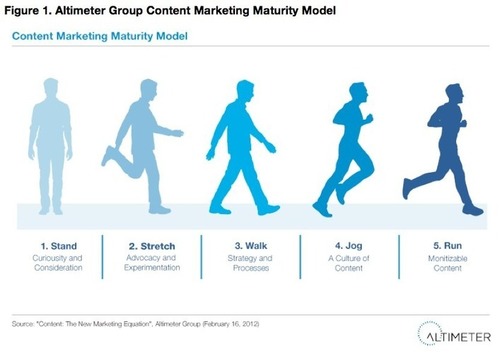 This is an interesting recap by Brian Solis of the stakes and challenges of companies with regards to content marketing. This is based on a report by the Altimeter Group, Brian's firm, produced by Rebecca Lieb.
He makes a lot of interesting observations, starting from the one that social media 1.0 is dead and that effective strategies need to recognize that you're not dealing with a simple audience anymore but an audience with an audience with an audience.
The report also defines 5 maturity stages for content marketing. Which one is yours?
Via www.briansolis.com
About Fred Zimny
Have been a service management professional for over twenty years. Successfully managed transition programs and front office operations within numerous major Dutch companies. I am also founder of www.serve4impact.com, an attempt to define the developments in the field of service design and service management. Interested in consulting, education and writing (and occasionally speaking) engagements, as well as blogging opportunities. Expertise: Service marketing Leadership Service management Marketing performance and productivity Change management.