Lead Lifecycle Analytics Dashboard #Infographic
See on Scoop.it – Designing design thinking driven operations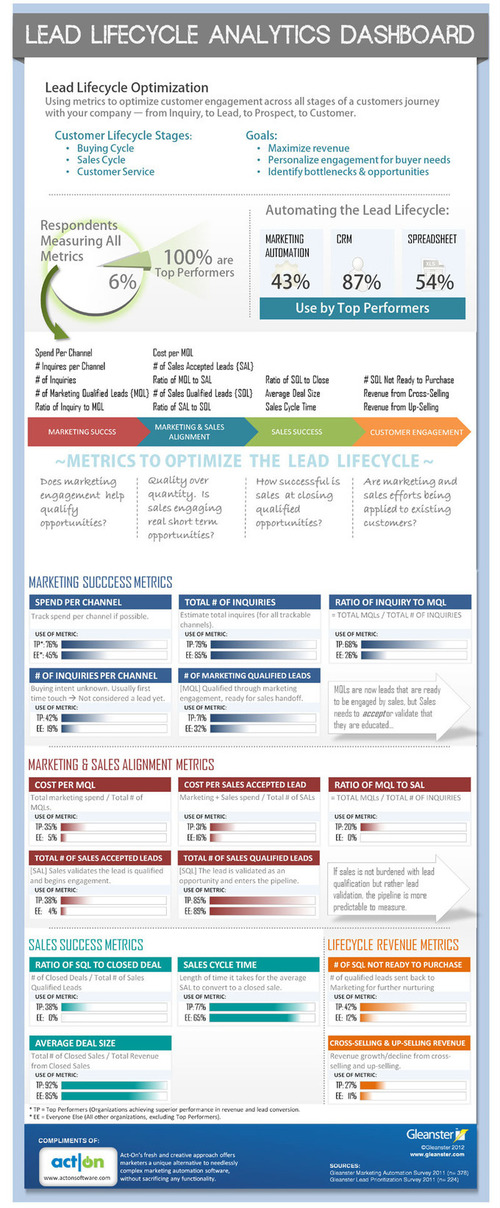 91% of companies today measure marketing performance using only a single measurement: revenue.
These single-metric minded organizations are being left in the dust by Top Performers who systematically apply a number of metrics to optimize the entire lead lifecycle, including: total number of inquiries, number of marketing- qualified leads, and cost per sales-accepted lead.
Lead lifecycle analytics are crucial; successful lead generation and lead nurturing rely on an organization's ability to address the multiple different stages of the lead lifecycle.
This Lead Lifecycle Analtyics Dashboard Infographic - http://bit.ly/IF0r7X - provides a visual overview of 15 key metrics needed to optimize the lead lifecycle, as well as how Top Performers are measuring their overall marketing performance using the following:
**marketing success metrics
**marketing and sales alignment metrics
**sales success metrics
**lifecycle revenue metrics
See on actonsoftware.com
About Fred Zimny
Have been a service management professional for over twenty years. Successfully managed transition programs and front office operations within numerous major Dutch companies. I am also founder of www.serve4impact.com, an attempt to define the developments in the field of service design and service management. Interested in consulting, education and writing (and occasionally speaking) engagements, as well as blogging opportunities. Expertise: Service marketing Leadership Service management Marketing performance and productivity Change management.