Blog Archives
See on Scoop.it – Designing design thinking driven operations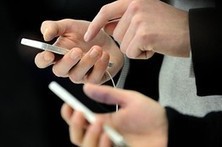 An estimated 130 million smartphones are roaming U.S. streets, but economists haven't been able to measure how they improve worker productivity. (With 130 million smartphones in U.S., economists have yet to detect an increase in our productivity.
See on online.wsj.com
Photocredit: -40 by ~eZhika on deviantART
Related articles
https://www.mckinseyquarterly.com/Clouds_big_data_and_smart_assets_Ten_tech-enabled_business_trends_to_watch_2647
What do u think?
Related articles
After a two-months break I recently started again working in the gym.  The effect of my exercise is better than stated here. But the underlying principle is so true.
Found at Seth's Blog: Self directed effort is the best kind.
How much are you paying for a drill sergeant?
Perhaps you can burn 500 calories on the treadmill before you give up for the day. With a personal coach, though, you could do 700. The trainer gets you to exert more effort.
Related articles