In An Era Of Digital Darwinism, No Business Is Too Big To Fail Or Too Small To Succeed
Via Scoop.it – Designing design thinking driven operations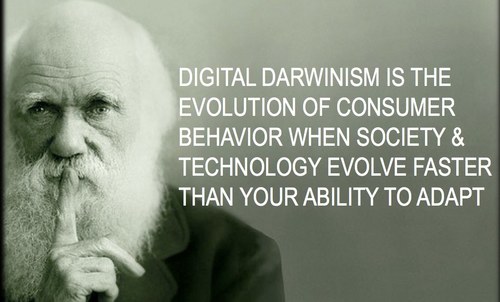 In an era of Digital Darwinism, no business is too big to fail or too small to succeed…this is your time.
*Many follow, but very few lead.
*Many compete to survive, but few compete for relevance
*Do we listen to our customers? Do we truly understand them?
*Do we create experiences or do we simply react?
*The future of business comes down to one word…change.
*This is a new era that redefines everything.
*An era of empowered consumers and employees.
*Will we fall to natural selection or will we rise to lead the revolution?
This is our time to make business relevant.
Because people, after all, are everything.
To watch Digital Darwinism on Brian Solis TV -
http://youtu.be/W-Yf1u3xD_I  
About Fred Zimny
Have been a service management professional for over twenty years. Successfully managed transition programs and front office operations within numerous major Dutch companies. I am also founder of www.serve4impact.com, an attempt to define the developments in the field of service design and service management. Interested in consulting, education and writing (and occasionally speaking) engagements, as well as blogging opportunities. Expertise: Service marketing Leadership Service management Marketing performance and productivity Change management.